Xylan® (Pronounced Zy-lan) are a family of fluoropolymer hybrid coatings consisting of PTFE, PFA and FEP. They are first and foremost dry-film lubricants. However, they have many desirable secondary properties. In the industrial world, Xylan Coatings are known as extreme performance coatings.
The application range is hugely diverse and the list of benefits of Xylan® are lengthy. Such as:
✓ Low friction: coefficient of friction as low as 0.02
✓ Wear resistance under extreme pressures
✓ Corrosion and chemical resistance
✓ Non-stick and release properties with some food approved coatings.
✓ Weather resistance: against sunlight, UV, salt water and road chemicals.
✓ Wide temperature operating range from -250°c to 285°c.
✓ Wide colour range
✓ Excellent adhesion to almost all metals, some rubbers, plastics and even to itself.
✓ Pliability – many Xylan® coatings will bend freely and repeatedly without breaking.
Is Xylan Coating Safe?
Xylan coatings, once correctly applied and cured, are perfectly safe. Of course, this depends on what exactly they are to be used for. However, a number of Xylan coatings are both WRAS and FDA approved if this is a concern.
Is Xylan A PTFE?
PTFE, Poly Tetra Fluoro Ethylene, is found in may types of Xylan. Xylan is a family of fluoropolymer coatings, some containing PTFE, some containing FEP, PFA, Molybdenum Disulphide and more. Each type of Xylan is formulated and designed for a particular application. Therefore, it is best to discuss with an experienced advisor at EMC for the most suitable coating system based on your needs.
What Does Xylan Coating Do?
Each type of Xylan is formulated and designed for a particular application. This includes anti-corrosion, anti-friction, wear and abrasion resistance, non-stick/release, chemical resistance, temperature protection and much more. Consequently, it is best to discuss with an experienced advisor at EMC for the most suitable coating system based on your needs.
Is Xylan And Teflon The Same?
Teflon and Xylan are both brand names. Both Teflon and Xylan are a family of coatings, often used in the food industry and associated with frying pans. Although they are excellent for this application, they can also be used to coat chutes, hoppers, multi-head weighers, sealer bars, fasteners and much more.
Our Experience
We are approved applicators with decades of experience in applying a wide range of Xylan®fluoropolymer hybrid coatings. Xylan® is used across the globe in an extensive list of industries including automotive, oil & gas, food, aerospace, rubber to name but a few. Therefore, whatever the finishing requirement, there's a good chance we have a Xylan® to solve the problem.
Xylan Coating On Washers
Here at EMC, we apply Xylan to thousands of washers that are used across the globe. Our tailored application processes ensure that optimum corrosion resistance is achieved in the most efficient possible way.
Furthermore, our use of specially designed primers and pre-treatments (such as grit-blasting and zinc phosphating) guarantee Xylan achieves the best possible protection. With some EMC applied Xylan systems achieving up to 3000-hour salt spray resistance. Therefore, Xylan truly is the perfect coating choice for the harshest of environments. Oil rigs, offshore wind turbines, aerospace and marine environments are all no match for a washer coated in Xylan by East Midland Coatings.
To achieve such resistance against rust, 100% coverage is essential. Anywhere uncoated will give rust the chance to start spreading. For instance, a cheap, tumble spray operation that leaves significant witness marks simply would not cut the mustard. So, our process has been designed and tweaked over decades to ensure 100% coverage is achieved.
As you can see from the process photographs, we apply a vibrant yellow Xylan to a number of washers. But, we also apply a selection of other colours. With each colour variant offering the same corrosion resistance properties as one another.
To source washers coated in Xylan, contact the experts at East Midland Coatings Ltd.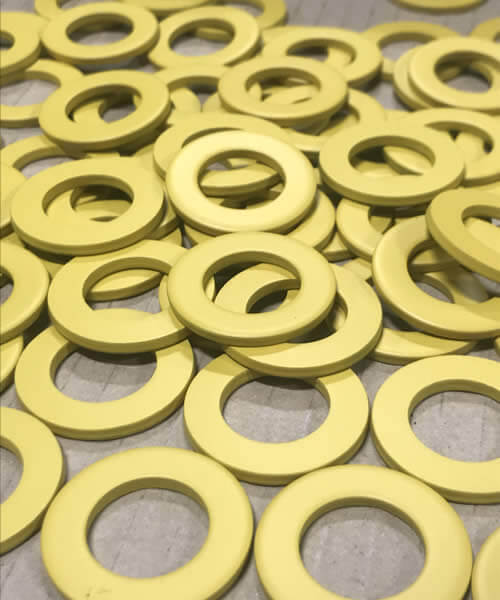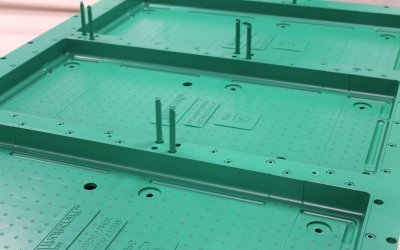 Plastic injection moulding can be a messy process. Sticking can be a major issue and many companies continue to use release agents despite the messy and time-consuming nature to apply them. Here at East Midland Coatings, we have helped companies completely eradicate...
ADDRESS
East Midland Coatings Ltd
Barleyfield
Hinckley Fields Industrial Estate
Hinckley
Leicestershire LE10 1YE
In conjunction with the General Data Protection Regulation, we will not share your data with any other party. Your details will only be used to contact you in response to this enquiry and any future communications with East Midlands Coatings Ltd
If you would like information about our services or have a specific enquiry, please get in touch…..